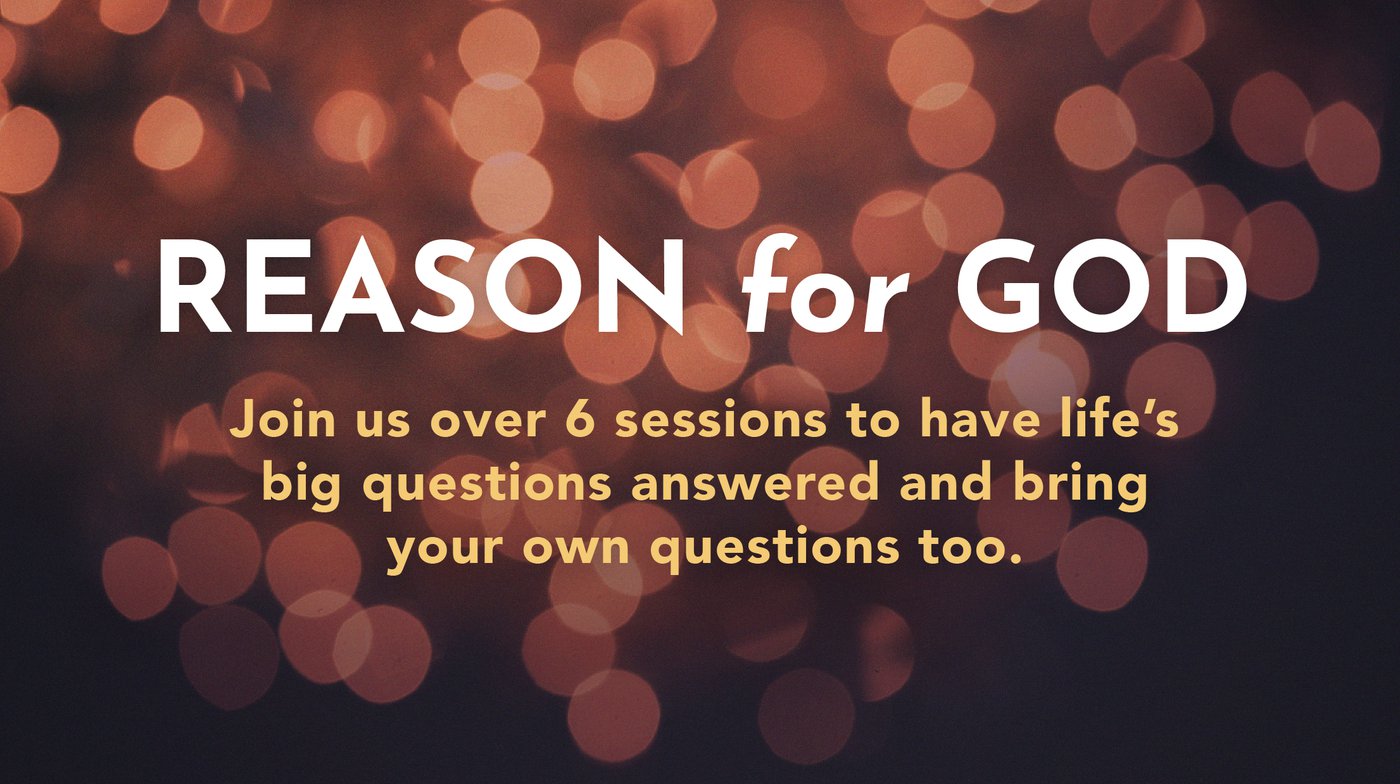 6 weekly sessions on Tuesdays at 7:30pm, starting Jan 11th ONLINE
Do you have questions? You're not alone—we all do. Explore life's biggest questions with us like 'Why is there suffering in the world?' 'Is there only one way to God?' and more. Knowing these answers can change your life!
Join us on Tuesday evenings at 7:30pm over 6 sessions to find answers and bring your own questions too.
This 6-week course is based on the New York Times bestseller, The Reason for God by Tim Keller. This six-session small group Bible study captures live and unscripted conversations between Tim Keller and a group of people to address their doubts and objections to Christianity. Using literature, philosophy, and Scripture, Keller and the group explore the truth of Christianity.
In his New York Times bestselling book The Reason for God, Timothy Keller established himself as a modern-day C. S. Lewis who brings together faith and intellect, theology and popular culture, modern-day objections and historic Christian beliefs.
Now fans of the New York Times bestseller can find resources to help them engage with those same objections, drawing on recent scholarship and debates. The Reason for God small group Bible study can be used individually, with groups, or by any believer who is engaging with friends who don't share his or her beliefs.
Christians will be challenged to wrestle with their friends and neighbors' hardest questions, and to engage those questions in ways that will spark an honest, enriching, and humbling dialogue. Capture a live and unscripted conversation between Timothy Keller and the six panelists discussing their objections to Christianity. This study will help small groups and individuals dig deeper into the objections of the Christian faith and to learn about both sides of the issues.
Sessions include:
1. Isn't the Bible a Myth?
2. How Can You Say There Is Only One Way to God?
3. What Gives You the Right to Tell Me How to Live My Life?
4. Why Does God Allow Suffering?
5. Why Is the Church Responsible for So Much Injustice?
6. How Can God Be Full of Love and Wrath at the Same Time?
While we are in "Modified Step 2" restrictions for Ontario we will be meeting only online for our study. But once we are able to meet in person again we will be doing a hybrid format using Zoom. Please sign up and indicate which format you would prefer.
JOIN OUR COMMUNITY+ CONNECT WITH US @KINGBIBLECHURCH
FAQs
wHAT'S IT LIKE IN PERSON?
For a reminder of our Covid-19 procedures and reopening plans you can find out more here.
Do i have to attend all the sessions?
Of course you'll get the full benefits of the course by attending all the sessions, but welcome you to attend the sessions as you are able to.
DON'T SEE YOUR QUESTION HERE?
Just contact us with your question(s) via email or using the button below and we'll get back to you asap.