Summer Partnership Program 2021!
We're finished for the Summer Partnership Program but look out for the Fall Program!
For those that participated in past programs, we'd love to hear from you if you could spare a few minutes to give your feedback.
What it is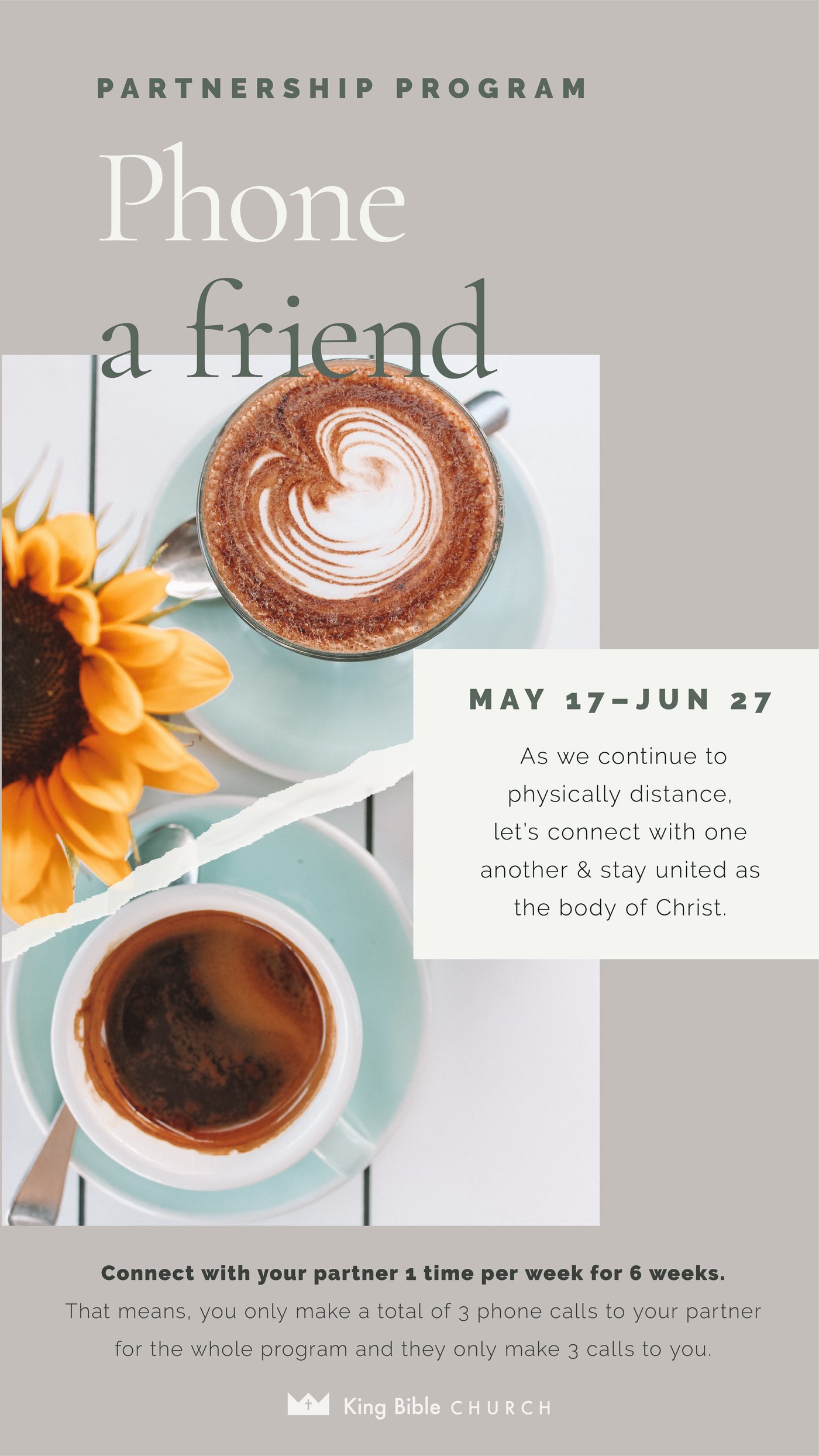 During this challenging time with limited in-person interaction, it has become more critical to intentionally connect with one another and to stay united as the body of Christ.
In support of the church vision to PARTNER with others, we run a Partnership Program for Men and for Women.
You will be assigned a partner by the Men's Ministry Leader (Mike Maglayo) and Women's Ministry Leaders (Amy Maglayo & Liz Kapasa).
YOUR ROLE: To call your Partner 3 times in 6 weeks to touch base and have a casual conversation.
YOUR PARTNER'S ROLE: To call you 3 times in 6 weeks to touch base and have a casual conversation.
Therefore the goal is to connect with your partner 1 time per week for 6 weeks. That means, you only make a total of 3 calls to your partner for the whole program and they only make 3 calls to you.
Our hope is that we will encourage one another, engage and connect with another Brother/Sister in Christ, nurture our hearts and get us thinking about how God wants to use us in the midst of the busyness.
"Now you are the body of Christ, and each one of you is a part of it." 1 Cor. 12:27 NIV
"This is my commandment, that you love one another as I have loved you." John‬ ‭15:12‬ ‭ESV‬‬
"For we are God's handiwork, created in Christ Jesus to do good works, which God prepared in advance for us to do." ‭‭Ephesians‬ ‭2:10‬ ‭NIV‬‬
"Therefore encourage one another and build each other up, just as in fact you are doing." 1 Thes. ‭5:11‬ ‭NIV‬‬
How long should these conversations be?
Well, it's up to you. We recommend setting 30 mins aside to chat, but as you get to know each other, you may want to let the Holy Spirit guide you.
What do we talk about? Or what if it feels like a struggle?
We will provide a list of questions if you'd like some ideas to get your conversation going. You can view and download them by clicking the button below.
What is the vision for this Program?
To give you an opportunity to set the busyness of life aside to experience the joy of investing in another brother/sister in Christ and to be blessed by what God has prepared for you through this relationship.
How can i sign up?
Sign up by clicking the button below. You will receive more information via email and your phone number will be given to your partner to contact you.
I've done the program before, can I do it again?
Thank you to everyone who took part in our past Partnership Programs! We hope you enjoyed it. OF COURSE you can participate in it again. We will match you with a new partner.
We'd love to hear from you on how you found the Partnership Program. We would appreciate if you could please make time to fill out this short questionnaire for you to reflect on the program, and so we can improve future programs as well as encourage others with your quotes.